No matter what kind of business you are – B2B, B2C, Saas, etc. – your success is going to rely pretty heavily on customer retention. Acquiring new customers is great, but maintaining those customers and creating customer loyalty is what'll bring your business stability and success.  Really, "better customer retention means more revenue and a better brand reputation".
3 Great Ways to Improve Customer Retention
First, Set clear expectations and then deliver more:  When you first start working with a client – or even are offering your services – make sure you set clear expectations of what you offer. You don't want to offer them the moon, if you can only deliver the stars. So, evaluate your services and the quality of your services and what they can truly do for your customer.
For example, if your a massage therapist don't tell your client that you can eliminate their back pain if you know you can elevate their pain. Eliminate says that after a few sessions with you, they won't be experiencing any pain at all. Elevate acknowledges that while you know your services will help, you also recognize that the pain they experience could return do to the clients own lifestyle or possible medical conditions.
If you offer too much and can't deliver, even if what you gave them was amazing, your client will walk away dissatisfied. However, if you are realistic about what your clients can expect they will trust you and keep coming back to you.
Along side this, it's always a good idea to do a little bit more than what you promised. For example, you might add on a smaller service free of charge. You can offer it, suggesting that if they'd be interest, you'd like to add the service for them to try. This turns into a opportunity to demonstrate that you care about your clients experience, while also showing a service that they may not have realized they needed.
Both will lead to a loyal customer who is willing to spend more money on your services.
Next, Keep communication open: It's pivotal when running your own business to always keep the lines of communication running. When I say always, I mean ALWAYS. If your  work with your client is seeing success, go through that with your client and talk about what's next. If what you have been doing doesn't seem to be working…go through that with your client and talk about what's next. Essentially, rain or shine, success or failure, awesomeness or mistakes, you need to be open and honest with your client and keep them up to date.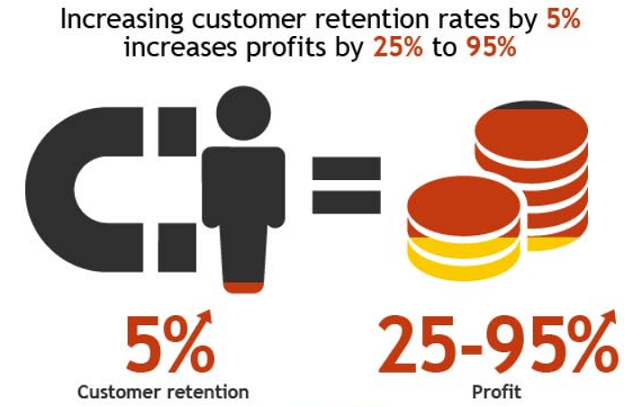 Improving customer retention is building customer loyalty. Your client will turn off from you faster if you disappear when things go bad versus are upfront about what is going on.  And whatever you do, don't only communicate when it's time to collect the bill.
Be the business clients in your industry can trust.
Third, keep showing up: The third way to improve your customer retention is to continually find engaging ways to stay at the top of your customers mind. When they need a service you offer, you want to be the first name that they think of. So, how do you do this?
Utilize social accounts to their max capabilities. If you are not optimizing social networks for your business, then you're losing money. Typically, I would say start with a Facebook page and build from there. By showing up in your target audience's and current customer's feeds daily, you're going to stay on top of mind.
E-newsletters. Done right, e-newsletters can be an extremely effective way to remind your customers of their great experiences working with you. Keep the newsletter focused and interesting.
Use technology to keep your customers from forgetting their appointments with you. For example, you can use an online scheduling software, like Georgie Scheduler, to send out reminders to your clients. There are a whole host of benefits to an appointment system like this, one of which being that your clients will keep you on their mind.